Field activities well coordinated took place in the local rural tourist village of Areco. Fair and artisans walk, auction of furniture and antiques to close the day, was the excuse neighbors to make more attractive the invitation.
(more info at the agenda at www.caminopampa.com)
Time, wonderful; with a sun invited to do everything outdoors.  "Jose Hernandez" square where the "Artisans of San Jose" met with his impeccable white posts (without propagandas of any kind, or resale of odds and ends that would degrade the proposal) with its handicrafts, crafts, fried cakes and homemade breads they did very picturesque and tasty !.
Averaging the evening, the auction of antiques pieces where for a few pesos bidders got from old bottles, lamps or furniture field.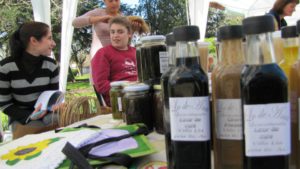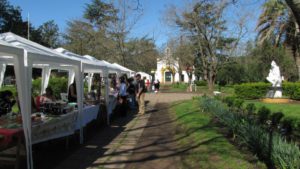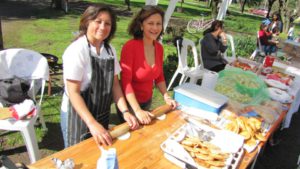 Feria local de artesanías
Actividades bien de campo y coordinadas tuvieron lugar en el pueblo turístico rural del Pago. Feria y paseo de artesanos, remate de muebles y antigüedades y la peña para cerrar la jornada, fue la excusa de los vecinos para hacer mas atractiva la invitación.
El tiempo, una maravilla; con un sol que invitó a hacer todo al aire libre. El eje, la plaza "José Hernández", donde los "Artesanos de San José" se reunieron con sus impecables puestos blancos (sin propagandas de ningún tipo, ni reventa de cachivaches que degradaría la propuesta) con sus artesanías, manualidades, tortas fritas y panes caseros que hicieron todo muy pintoresco ¡y sabroso!.
Promediando la tarde, el remate de campo en donde por pocos pesos los oferentes consiguieron desde frascos antiguos, lámparas de campo o muebles. El galpón resulto chico y casi todos se llevaron algo. ¡Que se repita!
Para esta noche llega la peña. Con "Tres para los nuestro" y el dúo "Dos Estilos", mas la jura de gato, chacarera y samba; condimentos que prometen una fiesta "de aquellas".
Excelente desde el principio al final… ¡y eso que el invierno aún no termino! ¿Con que nos sorprenderá en primavera y verano la comunidad de Villa Lía?
Esperando la primavera en Villa Lia: Feria, misa, cosas ricas, rifa, remate… Los puestos de los artesanos San José se presentaron impecables, sin anuncios ni reventas.